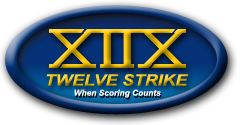 Twelve Strike has combined over 300 still and animated graphics for playback scenarios during league, open play, and non-play conditions. Graphics and Animations are displayed for specific bowling related exciter events such as Strikes, Spares and many other situations.
Bowling centers are still provided with the ability to create their own "in-house" graphics providing the capability to promote special events, league / venue promotions, advertisements for products or services.
Copyright @ 2016 TwelveStrike. All rights reserved.