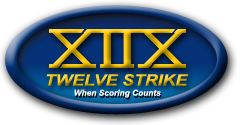 Touch Screen Monitors
Our industrial grade PCAP Touch Screen monitors, encased in durable roto-molded plastic and have a wide variety of colors to match the color scheme of the bowling center. The standard 17" Touch Screen monitor provides access to all scoring and administrative menus and can be password protected. Each pedestal unit controls one pair of lanes and offers remote access via the Central Desk.
User-Friendly Visual Interface
While our 2016 pedestal software offers a modern visual interface, you will find that our Twelve Strike scoring interface remains simple to use, feature-rich, and user-friendly. The external keypad has been removed and is now integrated into the monitor as part of the user-friendly pedestal scoring software interface. To accommodate a broad customer base in a variety of locales, we also offer our scoring software in a variety of languages.
User Friendly Pedestal
We designed the 2016 pedestal to appear more slim-lined, providing more room around ball return area. The frame is constructed of formed steel to provide increased strength and durability, and is available in a choice of finishes and colors. The pedestal Marquee Plate is available in a variety of color options and branding schemes to match your Bowling Center theme. If we can get your special logo to fit the front of the pedestal, we are glad to change it up and make your pedestal unique to your center. The Twelve Strike pedestal also includes 2 USB charge ports, with a shelf on the back of the pedestal, so that customers are able to easily charge their phones/tablets without having to leave the lanes. These are included with the standard automatic scoring package. The shelf to hold your customers phones/tablets is an optional item but is not something we charge extra for. It is a option we offer, for free.
Muti Color Light Kit
Do you want to create a theme in your bowling center at Christmas or Saint Patrick's Day or just put more pizzazz in your Cosmic/Casino bowl night? Using our Multi Color Light Kit in your pedestal will do just that. The colors can be made to stay one color or fade in and out using all colors. Such as during Christmas every other pedestal can be red and green and during your Cosmic/Casino nights you can have the colors fading in and out or flashing to the music. Either way it is sure to be a big hit with your customers and an inexpensive way to enhance your bowling center.
Copyright @ 2016 TwelveStrike. All rights reserved.